Self-defense for nurses: Essential tips and self-defense tools
Pandemic or not, we watch our guardian angels working diligently through days and nights for the excellent health and well-being of the patients in the hospital. However, hospitals are sometimes the most high-risk environments where unforeseeable situations are bound to happen, and nurses are often subjected to harassment because of unruly patients and potentially dangerous weapons. The nature of the job also requires nurses to travel back and forth from the hospitals at odd hours. Hence, nurses must master the techniques of self-defense for their safety. This article tours you through some tips and techniques that are essential self-defense mechanisms that every nurse must learn.
Tips for self-defense for nurses
From safety apps to mastering self-defense courses, nurses have multiple options to learn self-defense. Following is a detailed compilation of all the tips and tools essential for the safety of nurses.
Explore More About : Perfect Guide To Self-Defence For Senior Woman
Self-defense weapons
Innovations have improved the self-defense weapons and have extremely personalized each item that can easily fit into the hands or purses with ease. Mini pepper spray key chains, wrist alarms, whistle necklaces, guarded rings or knives, metal claws, and mini flashlights are some of the self-defense tools that can assist you in the time of distress. Apart from these designer weapons, nurses can even make use of some commonly available stationery as self-defense weapons. Pens or pencils, a handful of changes, hair sprays or perfumes, keys, or your handbags can be used as self-defense tools in case you do not have advanced weapons in your hand.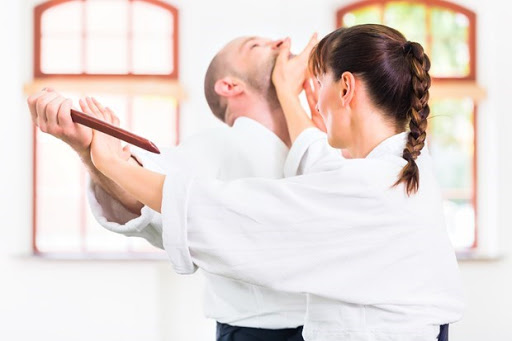 Self-defense courses and essential self-defense basics
With cases of sexual harassment on a rampant high, self-defense courses have cropped up in every nooks and corner of cities and online platforms. Master the basic defense techniques from the experts for a few minutes and fine-tune your response skills in times of danger. Several YouTube channels offer basic combat techniques of Martial arts such as karate, Kung Fu, and many others. While it is always good to learn from an expert, online videos are also useful to understand some of the basic self-defense techniques. Follow these helpful guidelines to prepare for the possible face-offs.
Tune on to some videos that can teach you the basics of self-defense tactics like understanding your attacker's vital points, essential wrist grab release techniques, chokehold releases, and different techniques to let go of holds from behind.
Time is an essential factor in emergencies. Along with your physical protest, make sure that you are screaming at the top of your voice for help. Always prepare yourself for a potential fight and act smartly in times of emergencies.
Solely blocking the attacks is not always a proper self-defense technique. Grab on to the self-defense weapons mentioned above and inflict pain or injury on to your attacker with full might.
Ensure that you thrust your body forward rather than moving backward. Your body is most robust in a forward position.
A situation arises when you could be knocked on to the ground. Immediately twist your body, lie on your back, and use your legs and feet to protect yourself.
Nurses are gifted with the skills of gut instincts. Follow your intuition and work smartly to avoid falling prey to your assailant.
Essential Do's and Don'ts
Apart from the basics of self-defense, follow some essential guidelines that you must follow to avoid dangers that can be avoided.
Avoid engaging yourself in mobile phones or listening to music with earphones when you are out alone. Make sure that you keep your mobile phones in your hand or easily accessible pockets.
Ensure that all your necessary self-defense weapons are kept handy in your bag or outfits.
If possible, park your vehicles in a well-lit parking slot. For those depending on public transport, make sure you keep your change for tickets ready.
Be vigilant and always maintain a distance with anyone you suspect of being an assaulter. Do not engage in conversation with strangers at the wrong time and place.
Always prepare a route map in your mind and the possible locations you could run for help.
Equip yourself with technology
Technology has always been innovative. GPS based applications and the alarm functionalities mainly equip the users with needed support in the time of adversities. Ensure that you download any one of these apps and make safety your priority.
bSafe
bSafe is a free application that can help you to communicate with your guardians with the help of GPS technology. An emergency button in the app can alert the guardians of your whereabouts and will activate an audio/video feature that records the incident for later references.
Guardly
Guardly is also a free app that allows you to send an emergency signal to the local authorities and your guardians even when the screen is on lock mode.
Red Panic button
A paid app, this application creates a list of contacts to be contacted as soon as you press the panic button. The receivers will also receive the Google map links pointing to your current location.