Women's safety is a major concern as the rate of crime against women is increasing every day. Women being abused, domestic violence and other related offences against women are a major threat to the safety of women. Women must be ready to face the danger of the outside world. This is possible when they learn to make use of certain self-defence techniques. Making use of self-defence weapons for women can help them to protect themselves from danger. These weapons give a sense of safety to women. No prior training is required to make use of these self-defence weapons. The following lists some of the good self-defence weapons that can be used by women.
Tactical Pen- Easy To Use
This is the most common and easy to use self-defence weapon that can be used by women. It is usually used by women to safeguard themselves from sexual abuse in the workplace or during travel in public transport. Tactical pens can be reached easily at times of danger. It can be used as a knife to hurt the attacker. It is easy to store this weapon as it looks just like a pen.
Flashlight – Used In The Dark
This is a good self-defence weapon that can be used to see your way in the dark. It is a must-have weapon for women who travel late at night. This weapon can also be used to blind the distract the attacker. This gives you some time to escape. Make sure that you use a flashlight with at least 20 lumens. There are flashlights available in the market that are highly powerful with 800 lumens which can be used in the night and blind attackers.
Explore More About : Self Defense Moves You Need To Know
Keychain – Excellent for an Unsuspecting Defender
This is a special keychain designed to serve as a self-defence weapon for women. This keychain comes with sharp spikes that can be used to punch the attacker or criminal. It would offer sufficient damage to your opponent. This would give you time to escape. It is a good idea to hold the keychain within your fingers when you walk alone. By this, you can be prepared even before the attack.
Knife
This is a small and common weapon that can cause serious damage to the attacker. Usually, knives are hidden as lipstick, pen, combs etc so that it is hidden from the plain sight. It is easy to carry as you can just clip it on your shirt or pants.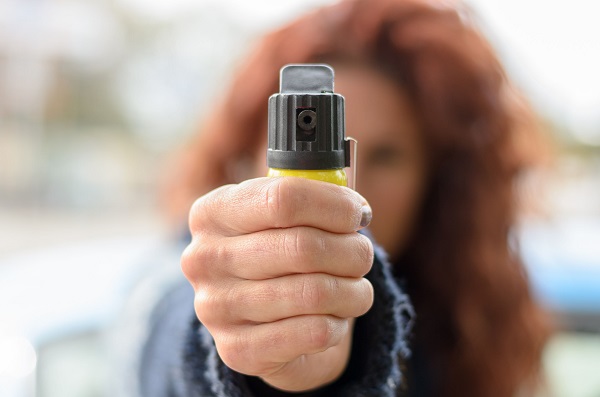 Pepper Spray
This is a popular self-defence weapon used by many of the young girls and women. It is a simple weapon that can cause immediate damage to the attacker. This type of spray contains a high concentration of capsaicin. This can leave your attacker in trouble when sprayed on his/her face. It gives ample time to reach out for help. Pepper sprays are available in various concealed forms like lipstick, wallets etc. It can also be attached with the keychain for easy access.
Rings
These are self-defence rings that can be used just like normal finger rings. It is easy to carry and it cannot be misplaced or forgotten. Women can wear these types of rings all the time and stay confident with a feeling of safety. This gives them peace of mind.
Stun Gun
This is the most effective self-defence weapon that can be used by anyone to attack the opponent when they are in trouble. It generates electric bolts that can leave your attacker disabled for more than 30 minutes. Stun guns vary based on their voltage. A high voltage stun gun would be effective to damage your attacker.
Personal Alarm
This is a simple self-defence weapon which is used to draw the attention of others when you are in danger. This weapon can make the attacker nervous. It is a perfect defense weapon for women. It is better to pair this alarm with any of the other self-defence weapons.