When it comes to martial arts and karate, the most famous and well-known names tend to be males. In this article, we take a look at the other side of the table. We talk about the most popular female experts in the field. While there are too many to name them all, here are the top 10 women that everyone should know about. These females are the crème de la crème of martial arts in Hollywood!
The 3 Biggest Martial Art Experts
The leading female karate expert, Cynthia was an actress in The Martial Arts Kid Movie. The athlete began her career as an action star in Hong Kong. She moved to her home turf later on and went to act in a number of hit B action movies.
Karen was the first woman to hold the number title in Women's Black Belt Forms Champion. She is known for her stunts in Mystery Men and her recurring role in TV series Hercules, The Legendary Journeys as "the enforcer."
Angela, born as Mao Ching Ying, developed her martial arts ability while working as a Chinese opera actress. The third child in a family of entertainers, she has 3rd Dan in Hapkido Tae kwon do Wushu. Her movie career began after being discovered by Raymond Chow. She is most known for her role in Enter the Dragon.
The Next Four Top Karate Artists
Kathy is a martial arts trainer and instructor who is recognised as the 1st 'sex symbol' in kick-boxing because her looks were more akin to a surfer from SoCal than a champion boxer. Her most famous role in movies was in Romy and Michele's High School Reunion.
Graciella is a known champion of kick boxing. She has 3rd dan in Kenpo Jeet Kune do Tae kwon do and Jujutsu. She is the 1st competitor to have both WKA and WBMA championships. When it comes to Hollywood, the female karate artist is known for her roles in Fire in the Night and Full Impact.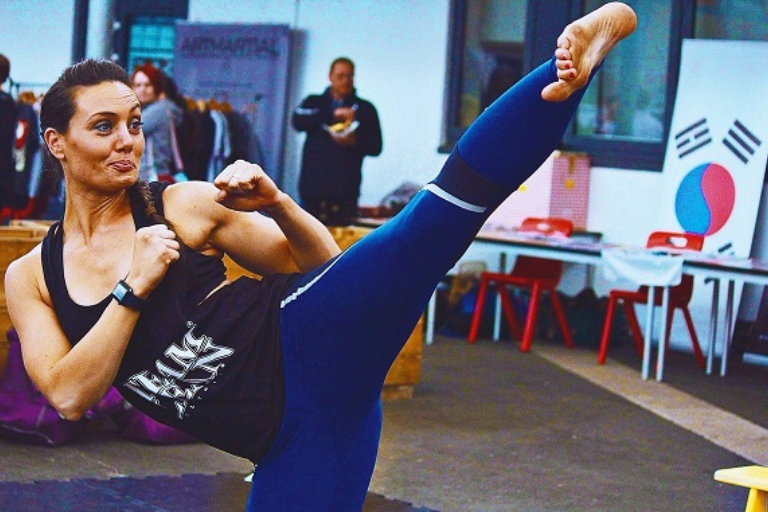 You will recognise Zara as the actress from Doctor Strange, Cannibals and Carpet Fitters and Tribal Get Out Alive. Known as the Kung Fu darling, she has a 4th dan in Freestyle Karate, and 3rd Dan in Tae kwon do and San Ryu. She is also the first British person to be included in the black belt Hall of Fame!
Dana, a stunts woman who worked on Mortal Kombat: Annihilation, holds a 4th dan in Tae kwon do. She has a gold medal from the Summer Olympics, a black belt, and is recorded in the taekwondo and martial arts history museum hall of fame. Besides her career in martial arts, she is also a TV commentator, motivational speaker and a master of ceremonies
The Last Three Female Artist And One Special Mention
Born in Missouri, Bridgett is a kick boxing ISKA, WKBA, WKA, UKF & IKBF champion with a record of 26-2. Besides being a pro boxer, she has a black belt hall of fame and acknowledged for her stunts in movies like Star Trek Beyond, Jumper and Watchmen.
The Chinese American actress is a martial arts expert in Taekwon-Do. She is also a Pro Muay Thai boxer and known as the female Bruce Lee or the next Michelle Yeoh. With a Master's degree from New York University-Tisch School of the Arts in Film/TV, JuJu is most known for her fight action roles like the one in Wu Assassins.
Jeeja was born in Bangkok to a businessman who died when she was still 17. The actress, whose name is pronounced as "ChiCha," is known as female Tony Jaa. She is 3rd dan in Taekwondo and Muay Thai. You will recognise her from her role in the movie Chocolate.
These were the top ten female experts in martial arts fighting styles in Hollywood that everyone should know. We now give a special mention to Bruce Lee's god-daughter.
Diana Lee Inosanto was born to close friends of Bruce Lee. Her middle name in honour of the martial arts legend and global icon. Her parents Dan and Sue Inosanto were Army veterans and martial artists too!
Diana herself is well-versed in Brazilian Jiu Jutsu, Jeet Kune Do, Muay Thai Kickboxing, Wushu, Savate, and Pentjak Silat. She has been the stunt person in a long list of movies and shows including Bones, Leverage, Fast and Furious and more.