Karate is a Martial art form which originated in Japan. The martial art is now famous across the world. The Shotokan Karate is most influential style of the martial art form. It was first developed in the nineteen hundreds. Like the martial art form this particular type of karate is said to be highly influential. The martial art form enables the learner to develop concentration, strength, self-control, flexibility and much more. The main motto of karate is the self-defense which is developed when one learn this fantastic art form. There are many Karate health benefits when one learns the art form. They are:
Self Defence: The Motto of Karate being self-defense, this helps the student of the martial art to develop the skill of self-defense when attacked. The Karate enhances the ability to react and strike quickly. The karate is credited with improving the speed and awareness of the attacker. Along with building up your spirits of self-defense, it automatically increases the level of self-confidence.
Explore More About : 12 Exercises For Martial Arts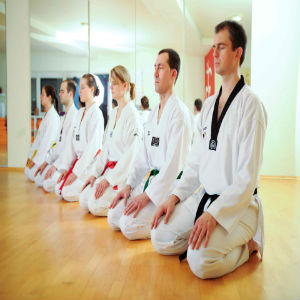 Fitness: Every karate class begins with the warm-up session which runs for about ten to fifteen minutes. The warm-up would include few basic exercises, cardio, stretches, pushups, and crunches. Along with the warm-ups the karate art consists of the punches and kicks which add on to the physical exertion which burns calories. This martial art form develops physical strength and fitness. It also increases the stamina, health, and flexibility.
Attitude and confidence: The karate or any martial art form not only shapes the physical aspect of life, but it also develops the mental health. The karate increases the memory capacity and the minds ability to make decisions. When the capacity of decision making arises the confidence increases. Since we are all aware that physical fitness is proportional to mental health, we can be assured of both.
Discipline: to become a warrior isn't that easy; one has to follow all the rules to defeat the opponent. The player also has to uphold certain morals before attacking or defending the opponent. These attributes of karate will automatically instill the qualities of discipline within the player.
Focus: Karate helps in increasing the attention of your mind. As Bruce Lee pointed out, a real martial artist slowly learns to search himself to understand his positives and negatives. This karate understanding will enable him to work towards his goals, increasing his focus on the subject he has laid ahead of him
Learning to take up the downs of life: Karate teaches students to take the hit, it not only means the real hits of karate but also taking the losses of life in the right spirit. We are all aware that life is not filled only with happiness, it has its ups and downs. Karate teaches you to take the lows in the same spirit thus making you a better human being.